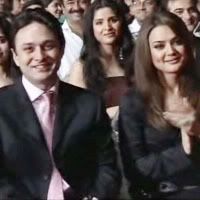 There have been some rumours flying thick and fast about our original Zing Thing and her man of the moment. And you can't really blame people, especially since Preity Zinta and Ness Wadia had not made any public appearances together in a really long time.
Why hasn't Ness been around Preity at any of the many high-profile dos she's attended in recent times? What happened when Ness flew down to be with Preity in New York, where she was shooting, and allegedly got into an argument with her? Too many questions, no precise answers: and you had the perfect recipe for a pot-boiler. Add to it, speculations about Ness's mother Maureen Wadia's unquestionable sway over her son. "Ness is his mother's boy," says a socialite, "And it is no secret that Maureen has had her issues with Preity." Concerns have also been expressed at how two obviously temperamental individuals can continue a relationship without triggering any firework.
"Ness is short tempered, and when he got involved with the controversy about allegedly beating up his security guards, one wondered how Preity would take it," questions a source. There is the other group of course, that pooh-poohs it all. "They are very much together," says a gentleman belonging to the 'optimistic camp.' "In fact, they even attended Salman's Eid do as a couple and partied till the morning!" Another source, close to the Wadias defends Ness, "He's been busy with his real estate business, and he has a lot more to do than pose for the paparazzi, you know!" When contacted Preity, true to her spirit, rubbished the rumours, reiterating that they have been attending their usual rounds of private parties.
So, have Preity and Ness survived just another rocky patch in their relationship? Well darlings, going by what Miss Zinta and her well-wishers have to say, one would be tempted to think so.
MORE HERE >>>