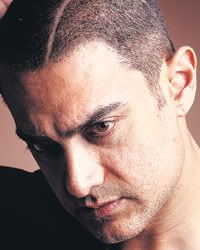 Aamir Khan has got the makers to change the script of his yet untitled remake of Tamil film, Ghajini. Aamir insisted on changing the remake's climax as he was unhappy with the last 30 minutes of the original version.
Our source says, "After getting a new look for Ghajini's remake, Aamir has begun the new schedule of the remake with various changes in the film's pre-climax and climax portions.
The Tamil version's climax takes place in a medical college where the hero (actor Surya) takes on the villain played by Aamir's Lagaan co-star Pradeep Singh Rawat, who is also involved in human trafficking.
There is a double role of the villain and the hero fights both of them in a hand-to-hand combat. But before the fight happens, the villain and his goons chase the second heroine (played by Nayanthara) to her college after which they disrobe and kill a medical student. The goons then announce that they shall continue to kill students until the hero comes out of hiding.
"Aamir knows that his biggest fan base is the family audience. Now, after the respect that he has earned post Taare Zameen Par and his rising popularity with children, Aamir wouldn't like the remake to have any content which he doesn't believe in. That's why he has got the entire climax rewritten. Apart from the changes in the last 30 minutes of the film, the Hindi version remains true to the
original," adds the source.
Abhijit Mhammunkar, TNN
MORE HERE >>>